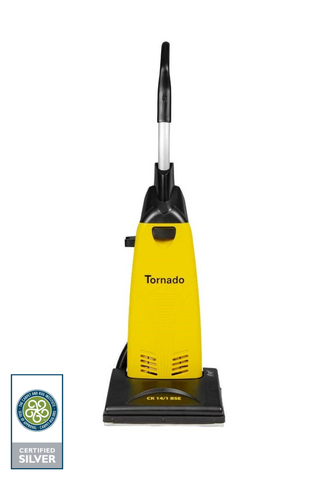 Tornado CK 14/1 BSE Upright Vacuum
14-inch commercial upright vacuum with HEPA filter

The CK 14/1 Series adds price, performance, and proven durability to Tornado's
already impressive lineup of industry-leading commercial upright carpet
vacuums. Combining affordability, superior airflow, the benefits of an enclosed
bag system, onboard tools, and a HEPA cartridge filter, the CK 14/1 Series is a great combination of value and performance. LEED qualifying at less than 70 dbA and the Carpet and Rug Institute (CRI) Seal of Approval, Silver Level, the CK 14/1 Series features a 14-inch cleaning path. Constructed with extremely durable polypropylene and metal construction materials, the unit tackles tough cleaning tasks, with tested and certified performance.
The three-stage filtration system includes a unique CleanBreeze disposable filter bag, an intake filter, and a HEPA filter cartridge as standard. The CleanBreeze filter is an intricate web of randomly spun polymer fibers capturing up to 60% more particles and allergens than conventional paper bags.
Equipped with a HEPA exhaust cartridge filter, the CK 14/1 is designed to help contain fine particulate and dust, contributing to improving indoor air quality (IAQ) and reducing risks associated with the redistribution of potentially harmful particles and allergens.
With the option of on-board tools, the CK 14/1 Pro's powerful suction is ready at your
fingertips for above-floor cleaning. The CK 14/1 BSE base model is perfect when all you need is standard carpet cleaning. The CK 14/1 Series is flexible, reliable, and perfect for use in a variety of indoor environments including hospitals, healthcare facilities, schools and universities, hotels, resorts, restaurants, commercial office buildings, retail stores, and shopping malls, and more.
---
We Also Recommend
---