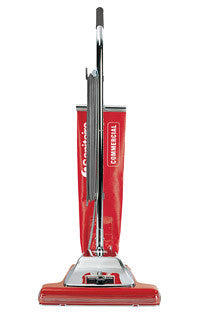 Sanitaire SC899F Commercial Upright Vacuum Cleaner, 16"
Sanitaire SC899F Commercial Upright Vacuum Cleaner
Details:
16" Brush, Bagless, For carpets only.
Ideal for hotels, education, government institutions and building services.
The exclusive Vibra Groom I brush-roll loosens dirt that is embedded deep into carpets. The removable Quick Kleen transparent fan chamber makes cleaning or changing the fan fast and easy. With a chrome steel hood, 50-foot power cord and 6 carpet level positions, large rooms will be cleaner in less time.
Sanitaire SC899F 
Designed for heavy duty commercial use, the SC899-F is made durable with its steel hood, chrome handle, and tough lexan base. It also has a  5-inch diameter fan that's especially great at cleaning carpets. Due to its effectiveness and convenience, and low price, it is a standard choice for many commercial applications, such as restaurants, clubhouses, car dealerships, warehouses, schools, and stores, which are settings where HEPA filtration is not necessary.
Benefits for the SC899F Commercial Upright Vacuum
With a 16-inch cleaning path, the SC899-F can cover bigger areas in a single pass than other commercial-grade upright vacs; because of this, the model can significantly reduces the total cleaning time.
The SC899-F is UL-listed for commercial use.
The Quick Kleen fan chamber that is exclusively designed for the Quick Kleen series is both transparent and removable. Since it is transparent, it is easy for the user to see if the chamber is already in need of some cleaning. Since it is removable, it is easy to clean and maintain when necessary.
With a 50-foot power cord, you can clean with freedom and can cover greater portions of space without having to repeatedly move the machine.
With 6 height positions, the SC899-F can be used to clean carpets of varying heights, from low pile to thick pile.
The unique Shake Out bag system is easier to remove and can be released without the use of any tools. This way, you can save on disposable bags. This is then supported by the quality of the heavy duty cloth bag itself, which ensures that the bag holds all the dust and dirt securely and can resist punctures and tears.
The motor that powers the SC899-F is lifetime lubricated, which means it is capable of self-maintenance, saving you a lot of effort and hassle.
While other bag systems seem costly, the SC899-F comes with a unique shake-out system,  all you have to do is shake the dirt and dust out when the bag is full.
Power: 7.0 amp motor
Filtration: Standard
Container: Shake-out (Bagless. No disposable paper bag)
Dust capacity: 18 dry qt.
Cleaning path: 16"
Cord Length: 50'
Motor CFM: 145
2 Year Warranty
---
We Also Recommend
---