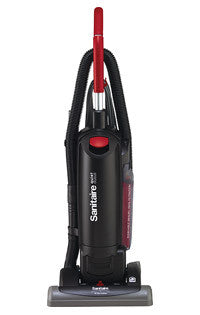 Sanitaire Quiet Clean HEPA Uprights: SC5815B
Details:
Ideal for Healthcare, education, hotel, government institutions and restaurants. For cleaning all kinds of carpets and furnitures.
SC5815 B is  a super powerful commercial upright vacuum cleaner. The SC5815-B turns the conventional into something new by adding new and improved features such as a sealed HEPA filtration system for better air quality, on board Hose and attachments for detail cleaning and super light weight body for effortless operation.
The SC5815-B is part of Sanitaire's Quiet Clean model; the Quiet Clean series is known for providing high-performance commercial vacuums that are CRI Green Label certified and that meet LEED requirements.
The Sanitaire Quiet Clean models, including the SC5815-B, are some of the best options that meet the LEED requirements. Thus, they are highly recommended for use in green buildings and in commercial spaces that are being converted into green spaces.
Benefits for the SC5815B Commercial Upright Vacuum
The washable filters mean that you don't have to keep on spending on filters; all you have to do is wash your existing filter when it is dirty. This makes the SC5815-B ideal for companies that wish to reduce the continuous operating costs of using a vacuum cleaner for maintenance.
Equipped with an active HEPA filtration system, this unit is guaranteed to help get rid of all sorts of dust and allergen particles, including those that are as small as 0.3 microns.
The SC5815-B can accommodate up to 8 different heights so you can adjust your vacuum cleaner depending on the height of the carpet that you are cleaning. These adjustments also come in handy when cleaning rugs and mats and all types of carpets from low to thick pile.
Operating at only 69 dB, the SC5815-B works quietly yet powerfully. Now, your in-house cleaning tasks don't have to disrupt business meetings.
Featuring a metal handle assembly with an ergonomic grip, the SC5815-B is easy to use and does not put a strain on the user's wrist.
The SC5815-B is UL-listed for commercial use.
With the 10-foot reach wand, the SC5815-B can clean even hard-to-reach areas like the corners of your ceilings.
With a 15-inch cleaning path, the SC5815-B can cover larger areas faster, thus shortening your working time.
Helpful features such as the brush view window and the headlight all prove that Sanitaire is mindful of the little things.
Sanitaire has partnered with ARM & HAMMER, a well-known manufacturer of vacuum dust bags that can securely hold fine allergens while also neutralizing the odor.
The Sanitaire SC5815-B, like the rest of the Quiet Clean series, is priced reasonably and are designed to reduce operating costs by eliminating the use of disposable dust bags and filters.
Power: 10 amp motor
Filtration: Washable sealed HEPA
Container: Disposable Paper dust bag Style SL
Dust capacity: 4.5 dry qt.
Cleaning path: 15"
Cord Length: 40'
Tools: onboard
Hose: 3:1 stretch
Motor CFM: 135
---
We Also Recommend
---