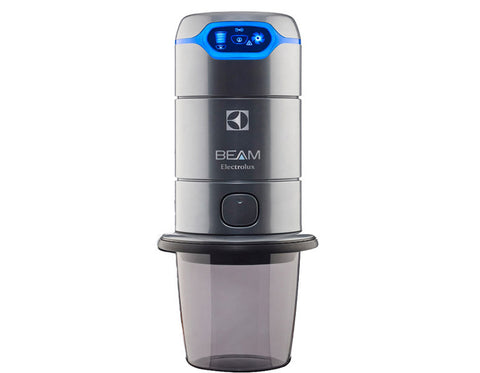 BEAM 650BA ALLIANCE CENTRAL VACUUM
BEAM ALLIANCE 650BA CENTRAL VACUUM CLEANER
The Beam Alliance 650SB offers all the convenient features of the Alliance family in a space-saving design.  Powered by a 650 AirWatt motor, you can feel confident that this central vacuum can tackle any job in your home.  With the Intelligent Smart Screen featuring a motion sensor backlit ring that lights up when you come close, a system-on indicator that allows you to turn the unit on and off manually as well as a hose linked icon, empty bucket icon and motor fault icon.
Thoughtful innovation is the inspiration behind the Beam Alliance central vacuum systems.  The name Alliance was inspired by the interface that communicates and keeps you informed about the performance of the system when vacuuming.  Next a High Efficiency motor which offers higher performance while using 30% less energy than traditional motors.  The motor is protected with the self cleaning filter made by Gore Technologies (Gortex brand) which filters 98% of particles at 0.3 microns without the need to buy separate filter bags.  Beam has so much confidence in this filtration method that they even include a lifetime warranty on the filter.  Noise has been greatly reduced by the design of the motor and airflow which creates less air turbulence providing a much quieter experience.  Another innovation unique to the Beam Alliance is the easy release bucket.  Simply press down on any two points around the ring and pull down to empty the bucket. 
Key Features:
650 air watt.
121 CFM Airflow
122" Waterlift
Intelligent Smart Screen.
Soft start motor for increased life.
Sound level 68 dBA.
Gore Technologies™ HEPA CleanStream™ self-cleaning filter.
6' power cord.
Press and release receptacle.
4-Gallons bagless receptacle.
Quick clean inlet on front of unit.
15 year motor and electronics warranty.
Lifetime warranty on non-electrical parts including filter.
Supplied Accessories:
Sound-Off Muffler™.
Mounting bracket.
Installation materials are extra.
Authorized Beam® Dealers are only allowed to ship Beam® power units and power teams within 100 mile radius of their location. Beam® is a registered trademark of Electrolux Home Care Products Ltd.
---
We Also Recommend
---